Netflix Watch Party!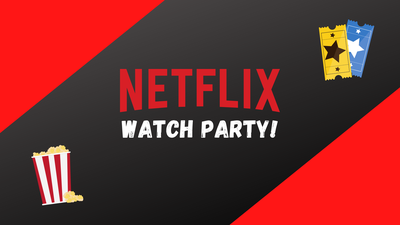 Netflix Watch Party!
2020-05-14T18:30:00-05:00
2020-05-14T20:30:00-05:00
When

May 14, 2020

from 06:30 PM to 08:30 PM

(US/Central / UTC-500)

Where

Desktop or Laptop Computer with Google Chrome

Contact Name Katelyn
Add event to calendar

iCal
We're trying something new!

While we might not be able to go to the movie theater just yet, we can still watch a movie together! Join us for a Netflix Watch Party on Thursday, May 14th at 6:30 PM where we'll be watching Mary Poppins Returns (Rated PG).

Before joining the party, you'll need to be sure you have the following:

1.) A Netflix account -- Don't have Netflix? You can signup for a free 30 day trial on their website.

2.) A desktop or laptop computer

3.) Google Chrome Web Browser installed on your computer

4.) The Netflix Watch Party extension installed on your Google Chrome Web Browser -- You can add the extension by visiting the site: https://tinyurl.com/js6htgz

On the day of the Watch Party, we'll be posting a link in order for you to join, so be on the look out! This link will automatically redirect you to the Netflix website. Once you've clicked on the link, you'll want to click the "NP" button on your Google Chrome Web browser (this will appear once you've installed the Netflix Watch Party extension). Then you'll be able to watch the movie and chat with us while it's playing!

If you'd like to see a visual explanation, you can check out this YouTube video below:
https://www.youtube.com/watch?v=Rx4XZpbnFig

Hope to see you there!