Illinois Libraries Present: An Evening with Jessamine Chan & Emily Malone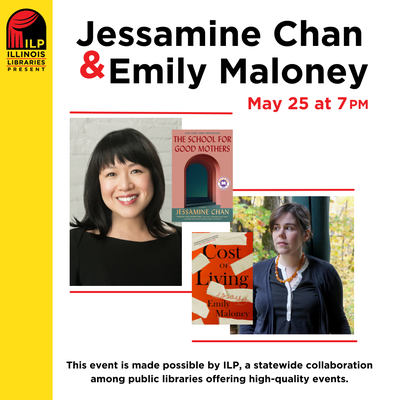 When

Sep 24, 2023

from 04:00 AM to 05:00 AM

(US/Central / UTC-500)

Add event to calendar

iCal

Join Jessamine Chan and Emily Maloney for a discussion about the systems of power that impact our lives, our families, and our finances, through the lens of their acclaimed books, The School for Good Mothers and Cost of Living.

Jessamine Chan is the New York Times bestselling author of The School for Good Mothers, her debut novel. Her short stories have appeared in Tin House and Epoch. She holds an MFA from Columbia University and lives in Chicago with her family.

Emily Maloney is the author of Cost of Living, a collection of essays. Her work has appeared in Glamour, Virginia Quarterly Review, and Best American Essays, among others. She holds an MFA from The University of Pittsburgh and lives in Evanston, Illinois, with her partner and their
dog.

Join us on Zoom.